Those planning to travel to Vietnam should be aware of the latest restrictions currently in place:
Vietnam has suspended the entry of all foreigners since March 22, 2020, until further notice to limit the spread of COVID-19. The measure will not apply to diplomats, officials, foreign investors, experts, and skilled workers.
Vietnam's Immigration Department announced automatic visa extensions until June 30, 2021, for foreigners that entered the country on visa waiver programmes, e-visas, or tourist visas since March 1. The measure applies to those who entered Vietnam since March 1, allowing them to leave the country without any penalty or paperwork until May 30, 2021.
In light of the recent outbreak, Ho Chi Minh City has imposed social distancing measures since May 31, while Hanoi has reopened eateries and barbershops, though with restrictions.
Both Hanoi and Ho Chi Minh City have suspended international arriving flights to deal with the local outbreak, though outbound international departures can continue as normal. Ho Chi Minh has also limited domestic flights to 63 per day until June 14.
Vietnam's Ministry of Health extended the mandatory quarantine period to 21 days from the previous 14-day requirement from May 5 after several patients, who came from abroad, tested positive after completing the requirement. The requirement applies to all foreign arrivals as well as those who have had contact with COVID-19 positive patients.
Several non-essential services such as nightclubs, karaoke parlors, massage parlors, bars, movie theaters, and gyms in Hanoi, Ho Chi Minh City, Da Nang, Ha Nam, Vinh Phuc, and Quang Nam have been suspended since May 3.
Flag carrier Vietnam Airlines resumed some international flights connecting Hanoi and Ho Chi Minh City with South Korea, Japan, and Australia from April 3. Low-cost carrier VietJet has also resumed services including to Taiwan and Thailand. However, only repatriated approved Vietnamese citizens and approved foreign experts will be allowed to enter Vietnam.
The Civil Aviation Authority of Vietnam (CAAV) has proposed the government consider gradually resuming international flights in the three stages throughout the year.
Human trials of Vietnam's locally made COVID-19 vaccine began with 60 volunteers on December 17 in Hanoi.
Vietnam and Japan have agreed to lift mandatory quarantine for short-term visits for businesspeople and officials from November 1. However, this will be done as per strict health protocols including testing and medical surveillance. Details of the protocols and procedures are yet to be released
The government on September 15 issued Notice No 330/TB-VPCP allowing Vietnamese carriers to resume international air routes with six countries – these are Guangzhou (China), Tokyo (Japan), Seoul (South Korea), Taipei (Taiwan), Phnom Penh (Cambodia), and Vientiane (Laos). However, incoming travelers will need to present a negative RT-PCR test three days before departure and test again on arrival in Vietnam. Commercial flights, however, are yet to resume pending further instructions from government authorities.
Foreign employees will be allowed to quarantine at the company's factory, the company headquarters, or at a designated hotel/facility. In addition, if they test negative twice, they could be released and self-quarantine at their residence or company headquarters in accordance with local health authorities. 
While Vietnam Airlines began one-way flights to Japan on September 19, carriers will release specific schedules for air routes after official confirmation from the authorities. 
On August 31, the Ministry of Health lifted the mandatory 14-day quarantine for foreign experts, investors, managers, and diplomats on short business trips of less than 14 days. However, they must comply with all other health measures and must follow their scheduled itinerary. If after 14 days they wish to stay in Vietnam, they can do so without quarantining, provided they test negative for the virus.
Vietnamese authorities will charge a quarantine fee for anyone entering Vietnam from September 1. However, the medical treatment of Vietnamese nationals in case they are infected by the pandemic will be covered by the state budget. Foreign nationals are required to pay for their own medical treatment. International arrivals who opt to stay at government quarantine facilities are required to pay at least VND 120,000 (US$5) per day.
Foreign employees that want to enter Vietnam should ensure they have a sponsor who can assist in obtaining the necessary paperwork and be prepared for a mandatory 14-day quarantine on arrival in Vietnam
Vietnam will grant e-visa to citizens of 80 countries from July 1, 2020 as per Resolution No. 79/NQ-CP. Details on the list of countries can be accessed here. While this is a positive sign, Vietnam's borders remain closed to foreign visitors due to the pandemic and the government has not made any official statement on when the borders will reopen.
Vietnam's Immigration Department on May 18 announced automatic visa extensions until June 30 for foreigners that entered the country on visa waiver programmes, e-visas, or tourist visas since March 1.
Foreigners that entered the country before March 1 including those with temporary residence permits will also be entitled to extensions till September 30 but must present proof of documents such as health declarations and official documents from embassies. For assistance, applicants can call the immigration helpline at 0243.9387320.
Travelers that are still in Vietnam can call the Tourist Helpline at +84378173371 for guidance on visas, accommodation, hospitals, embassy, or consulate details. The helpline is available from Monday to Friday from 9:00 a.m. to 5:30 p.m. local time.
Vietnam lifted social isolation measures on April 23 with most businesses resuming operations. Nevertheless, measures such as wearing face masks and observing strict hygiene standards remain in place.
As of 12:00 pm on March 15, Vietnam suspended all visas and will deny entry to travelers from the UK and the 26 Schengen countries; this includes travelers that have visited or transited through these countries in the past 14 days. This will be effective for 30 days.
In addition, Vietnam has suspended visa on arrival for all foreign nationals except for those on official or diplomatic trips. Those who currently hold visas to enter Vietnam will need to undergo screenings and may be quarantined when entering the country.
From March 7, all travelers coming to Vietnam will be required to submit a health declaration upon arrival. Passengers can fill out this declaration at the airport or submit it online via this link (picture below).
Those that are assessed to have symptoms of the epidemic will be transferred to designated health facilities for isolation.
There is a temporary ban on travelers with travel history to mainland China, except for those on official or diplomatic missions.
We have also heard of travelers in more remote border crossings into Vietnam being denied entry if they possess any China visa history in their passport. If travel is required, we recommend using the main border entry-exit points.
Do not travel if you are sick; those that travel while sick, risk being quarantined, and undergo tests.
Visa-free travel has been suspended for South Korean and Italian nationals as well as ethnic Vietnamese from these countries. In addition, travelers arriving from or those that have transited through Daegu and Gyeongsangbuk in South Korea in the past 14 days will be denied entry.
In addition, visa-free travel has also been suspended for eight countries: Denmark, Finland, France, Germany, Norway, Spain, Sweden, and the UK from March 9.
Travelers from China that are permitted to enter Vietnam, as well as those from South Korea, Iran, and Italy, are required to undergo a 14-day quarantine upon entry.
Flights and passenger trains, as well as various border crossings to mainland China, remain suspended.
All Vietnam carriers have suspended flights to South Korea, while other foreign airlines have reduced the number of flights significantly between Vietnam and South Korea.
Flights to Hong Kong, Taiwan, and Macao remain operational though they are operating with reduced capacity.
Additional restrictions are possible for travelers when they return to their country of origin, including entry restrictions and quarantine.
The Vietnamese government officially declared COVID-19 as an epidemic on February 1, with authorities taking swift and strict measures to contain the virus.
Several Vietnamese businesses, residential complexes, and restaurants have installed their own preventative measures to keep customers safe.
Due to the epidemic, travelers should monitor restrictions and comply with advisories issued by the local and national authorities.
The Vietnamese Ministry of Health is updating about the epidemic here, while the Tourism Ministry has also listed travel updates here.
In addition, basic precautions one can take to reduce their risk to the coronavirus as advised by the World Health Organization (WHO) are:
Wash hands with soap and water or an alcohol-based hand rub;
Cover nose and mouth with tissues or inside of elbow when coughing or sneezing;
Avoid close contact with anyone with cold or flu-like symptoms;
Thoroughly cook meat and eggs; and
Avoid unprotected contact with live wild or farm animals.
Health declaration form sample: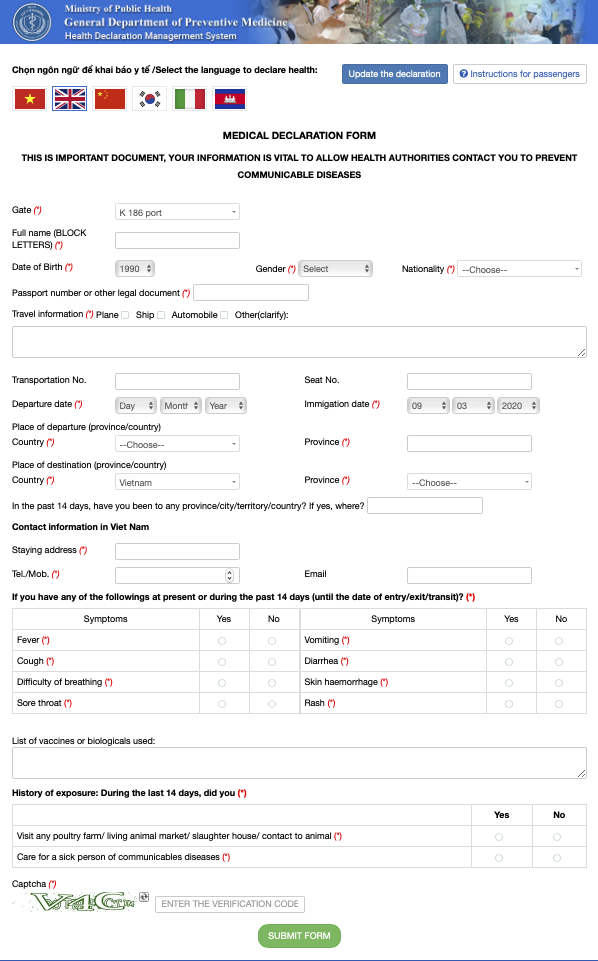 Note: This article was first published on March 9 and has been updated to include the latest developments.
Tag: COVID-19 outbreak, Vietnam Covid-19, Vietnam Quarantine Rules, Vietnam Medical Declaration form