Viet Green Travel Story
We are proud of being a member of PATA, PATA, VITA, and being designated by (VNAT) Viet Green Luxury Travel JSC - Vietnam's First Luxury Tour Operator International Tour Operator Licence 01-392/2014/TCDL-GP LHQT.
"Viet Green Travel" is our branding name, registered by the National Office of Intellectual Property of Vietnam. Viet Green Travel., JSC. We offers you carefree luxury travel so you and your family can focus on the fun, not the details. Challenge your skills at the country's most spectacular golf courses. Soak up the sun while being soothed by the sound of breaking surf. Hunt for high-fashion couture in the most elegant cities of Vietnam.
Viet Green Travel, with our head office in Hanoi, Vietnam is a 100% fully registered and privately-owned Vietnamese company. Our company is a fully-licensed and accredited full service travel agency, and inbound and outbound luxury tour operator. We are Vietnam's Luxury Tour Company. Our company excels in business and leisure travel. We offer services not only for tour operators and travels agents, MICE planners, but also for leisure-free independent travelers worldwide.
Viet Green Travel and Communication Joint Stock Company (referred to as "Green Travel" or Viet Green Travel), formerly Green Tours (Green Tour International), was established in Hanoi in 1997 by the leaders. young talent, full of enthusiasm. Together they have built a strong company, reaching many achievements, developing golden products.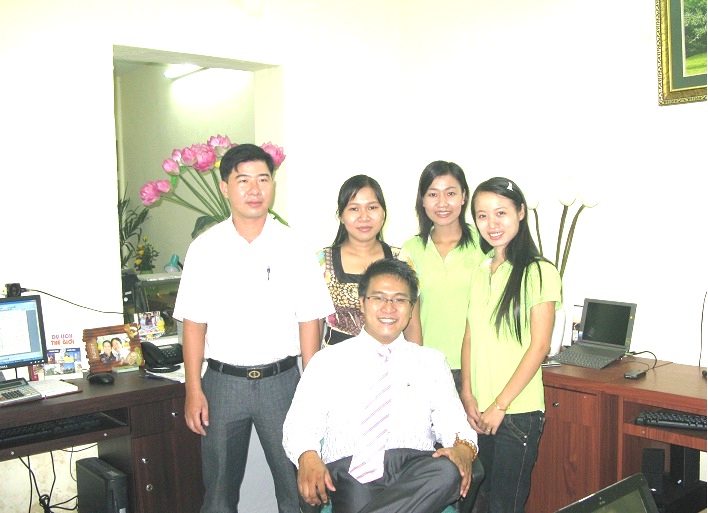 The 1st founder - Viet Green Travel 2009 - 2010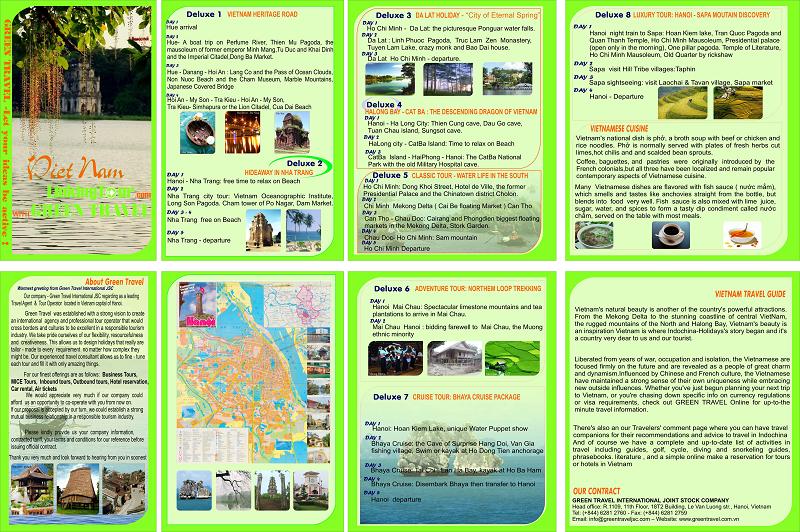 Brochure ITB Berlin 2007
After 9 years of such challenging successes, since 2006, Green Travel (Green Travel) was established with a strong financial investment and dare to change strategic and sustainable business thinking into a once again helping Green Travel become the leading travel company in Vietnam specializing in providing high-end domestic and international services.

But the most important historical milestone of "Green Travel" - "Viet Green Travel" was officially born on June 6, 2010, marking the formation of a real brand, looking for success. resonates in the travel services industry in Vietnam and internationally.

With a long-term vision and a sustainable development perspective, the Board of Directors of "Green Tourism" - "Viet Green Travel" has focused on investing in the tourism and communication sectors with two strategic brands, Viet. Green Travel and Viet Green Media. With continuous efforts, for nearly 6 years, "Green Travel" - "Viet Green Travel" has become a strong brand in Vietnam for high-end travel services, professional in providing tour programs. High-quality domestic and international travel and consulting support for tourist visa, business, settlement, study abroad to countries: USA, Australia, Canada, UK, Europe, New Zealand, South Korea , Japan....; organized hundreds of major events and media in the fields of culture, sports, music ... for corporations and companies in Vietnam such as: Vingroup, Toyota, FLC, MBbank, Deoca, Eurowindow, Vinaphone,

In January 2012, "Green Travel" - "Viet Green Travel" officially implemented the plan to form and build a system of 05 subsidiaries under the "Viet Green Group" brand: Viet Green Media; Viet Green Travel; Viet Green Education; Viet Green Spa; Viet Green Immigration & Visa. Thus, the "money" model Viet Green Group officially operates under the Group model.

In May 2014, Viet Green Group welcomed new brands to serve many high-end customers, especially, super VIP: Viet Green Apec & ABTC; Viet Green Embassy, ​​Viet Green Helicopter & Viet Green Seaplane, Viet Green Golf and Viet Green Yatch

October 2015: With dare-to-think determination to change and upgrade high-level support services on Conference and Negotiation; Business solution; International exchange; International Culture and Arts; Event media products; .... for VIPs Customers (are foreign businessmen coming to Vietnam to work or work; being Vietnamese businessmen going abroad to integrate into cooperation and business development with multinational strategic corporations; Government delegations of France, USA, Australia, Japan, Tanzania; Cameroon; South Africa; Brazil, Mexico, Paraquay; major travel group companies such as Opodo UK, Lasminute Australia; Yachtworld; Helicopter Hongkong Group ...)

In February 2016: Viet Green Group successfully built and attracted all customers' attention with services such as national notarized translation; Lease of premium multi-language interpreters; Global consular legalization; Organizing events, Rental helicopters, Organizing tours Thuy Phi Co .... all over 63 provinces; Immigration consulting services in Europe, America, Australia and Canada; Nationality orientation 2 for entrepreneurs

August 2018 - 10/2020: Continuing to develop more brands: Viet Green Land - Green Real Estate; Viet Green Farm & Viet Green Organic - A chain of Green Agricultural Products with clean, fresh, safe food; Viet Green Tet - A brand specializing in Tet decor, small landscape decoration of Xuan market space, buying and selling Tet equipment and accessories; Viet Green Marathon - Vietnam Marathon Event Company ....

Efforts and hard work from the first step, "Green Tourism" and other business models of Viet Green Group have done miracles to strive to honor Vietnamese brand and strive to become successful soon. Leading private investment economics firm in tourism & events. Those initial successes are crystallized by the intelligence, bravery and aspirations of the Founders. They are passionate to the fire, extremely sublimated to maintain a bright career mind from yesterday, today and tomorrow.

In any difficult situation of the market economy, over the past 24 years "Green Tourism" - "Viet Green Travel" has proven its role as a pioneer in changing the trend of using tourism products, high quality and prestigious event. That is the dream and ambition of all staff and staff of Green Tourism.
READ US MORE HERE >>> 
WHAT VIET GREEN TRAVEL DO

Luxury Outbound Tour Operator
Luxury Inbound Tour Operator
Full Travel Service Agency
Culture Tours
Private Yacht Cruises
Family Travel
Wellness and Spa
Golf Holidays
Luxury Adventures
Custom Tours
Luxury Hotels/Villas/Boutiques
MICE: Meeting, Business Travel and Conference Travel, Event
Online/Internet Travel Service
Private Travel Arrangements for VIP Stars and Celebrity, Royal and Government clientele.
Luxury Transportation
Private Jet, Air Plane/Helicopter
Luxury Car Rental
GENERAL INFORMATION 
International Trading Name in English: VIET GREEN TRAVEL
Company Name in Vietnamese: CÔNG TY CỔ PHẦN DU LỊCH VÀ TRUYỀN THÔNG MÀU XANH VIỆT
Company Licence: 0104736080 issued by The Hanoi Department of Planning and Investment.
Tax Identification Number: 0104736080
Account Name: VIET GREEN MEDIA AND TRAVEL JOINT STOCK COMPANY
Account No: 0021 00000 3333
Name of Bank: Vietcombank - Hanoi Branch
Bank address: Builinding 198 Tran Quang Khai Str,Ly Thai To Ward, Hoan Kiem District, Hanoi City, Vietnam
Swift Code: BFTVVNVX
Head office: R102 H50- Alley 41/27 Pho Vong Str, Hai Ba Trung Dist, Hanoi, Vietnam
Tel: 024.66888684
Website: www.vietgreentravel.com | www.dulichxanh.com.vn | www.vietnamhelicoptertravel.com
Email: info@vietgreentravel.com | info@dulichxanh.com.vn
Hotline/ Zalo/ Whatapp: 0989313339
Opening Hours ( GMT+0700 ) : Mon - Sat: 9:00 A.M - 6:00 P.M.
Mr. Tonmy Lee (Languages Spoken: English and Vietnamese) 24/7 Customer Care ++84.989313339
For your reassurance, we are partners with numerous travel agencies and tour operators around the world, serving discriminating travelers. Many of them become our referrers or repeated clients.
We are proud of being a member of PATA, PATA, VITA, and being designated by (VNAT) Viet Green Luxury Travel JSC - Vietnam's First Luxury Tour Operator International Tour Operator Licence 01-392/2014/TCDL-GP LHQT. We value and welcome all opportunities to work with travel colleagues around the world as their exclusive local tour operator in Indochina and the neighboring countries.


1
100% TAILOR-MADE
Our team will be your personal experiences manager creating an authentic and 100% tailor-made holiday. Utilising the expert knowledge of our in-country staff, we observe a philosophy of bespoke travel.client.
4
LOCAL TRAVEL EXPERTS
With more than 15 years of experiences, our knowledgeable staff will advise you in finding the most suitable and wonderful itineraries according to your tastes
2
UNIQUE EXPERIENCES
We understand that you are unique and will make sure that your journey is exceptional. With distinctive activites, off-the-beaten track destinations and immersion in local life, our travel packages are above all
5
OUR ASIA HOME
Home to some of the world's most colourful cultures and exotic destinations, Asia is a veritable feast for the senses. Delve into our country selection to uncover a range of exhilarating, inspiring journeys.
3
TOUR WE LOVE
Here at VIETGREENTRIP, we're all travellers at heart. This is reflected in the exciting and immersive range of tours across Asia we've meticulously crafted. Here's a shortlist of tours we're especially proud of to fuel some wanderlust.
6
MEET OUR TEAM
All of our travel consultants follow a specially devised training program to develop their expertise in all aspects of travel and customer service. Say Hello Vietnam at Zalo/Whatapp: 0989313339