New ways to save Vietnam tourism industry
The gradual opening of international routes and the pilot opening of some tourist sites for foreign tourists are among important solutions in efforts to save the aviation, tourism, hotel and service industries.

It is reported that about 20% of tourist accommodation establishments across the country had to close, and nearly 35% operated in moderation during this time. Revenue of tourist attractions and entertainment facilities decreased by about 60%. A large number of high-quality workers in the tourism industry had to change their jobs. It is estimated that it will take the local tourism industry decades to recover as it was in 2019.Reviewing the situation of the tourism industry in the first half of 2021, Director General of the Vietnam National Administration of Tourism Nguyen Trung Khanh was worried when the Covid-19 pandemic continued to cause heavy losses to the industry. The fourth wave caused the number of domestic tourists and revenue to decrease further.

For more than a year, Vietnam has not yet opened its doors for international tourists. The number of foreign visitors was almost zero. In the first six months of this year, international visitors to Vietnam were estimated at 88,200 arrivals, down 97.6% over the same period of last year. Most foreign arrivals were experts and technical workers who came to Vietnam to work.

During the first half of 2021, the number of domestic tourists reached 30.5 million. Total revenue from tourists was VND134,000 billion, down 24.2% year on year.

Travel restrictions also hit domestic airlines. The 3rd and 4th epidemics caused a deep drop in revenue of local air carriers, with a fall of up to 90% in May-June alone in comparison with the same period of 2020. Meanwhile, the short-term debt and due debt of Vietnam Airlines, Vietjet Air, and Bamboo Airways was VND36,000 billion. These three airlines last year incurred a total loss of VND16,000 billion.

The debt has reached VND20,000 billion for Vietnam Airlines alone. To maintain operation, it places hope on a loan package of VND4,000 billion, the issuance of shares to existing shareholders with a total amount of VND 8,000 billion and the sale of 11 aircraft. Its fleet has fallen from 107 to 86 aircraft.

Visible sources of income
In that context, the gradual opening of international routes and the pilot opening of some tourist sites for foreign tourists are among important solutions in efforts to save the aviation, tourism, hotel and service industries.

Following the guidance of the Politburo on allowing Phu Quoc Island in Kien Giang Province to welcome foreign tourists under a pilot program, the Ministry of Culture, Sports and Tourism has developed a pilot plan to welcome international visitors to Vietnam's largest island this October 2021. The pilot program will be implemented within six months.

Under this program, Phu Quoc will welcome tourists to resorts and golf courses, who come from potential markets such as China, South Korea, Japan, Taiwan, USA, Australia, UK, Russia, Germany, and France. The Ministry of Culture, Sports and Tourism expects that Phu Quoc will welcome 2,000-3,000 international passengers/month (equivalent to about 25 flights/month) in phase 1 and 3,000-5,000 visitors/month (equivalent to about 40 flights/month) in phase 2.

It is estimated that with 25,000-40,000 visitors to Phu Quoc in 6 months, each paying over $1,000, Phu Quoc will earn at least $25-40 million.

According to the Vietnam National Administration of Tourism, in 2019, the revenue from international visitors in Vietnam reached $18.3 billion, while the number of foreign visitors only accounted for 1/5 of the total number of visitors.

In addition to choosing Phu Quoc as the first place to pilot welcoming foreign tourists, turning hotels into quarantine centers to serve people who enter Vietnam such as overseas Vietnamese, foreign experts and workers, help create a significant source of revenue for hotels.

In the southern province of Khanh Hoa, 23 hotels have been selected to serve as paid quarantine sites, with over 3,000 rooms. Statistics of Khanh Hoa Center for Disease Control show that by mid-December 2020, these hotels served 2,848 people.

In Hanoi, 19 hotels from 3 to 5 stars are used as quarantine sites, which served 55,160 people in June 2021, according to the Hanoi Department of Tourism. The number of hotels in HCM City that provide quarantine services is 25, with more than 3,000 rooms.

This model has been expanded to other places such as Hoi An town in Quang Nam Province and Da Nang City, and most recently Quang Ninh Province. Van Don International Airport in Quang Ninh Province has welcomed 194 flights, with 40,674 people entering the country, including 13,604 foreigners and 27,070 Vietnamese.

Coordination

In the context that up to 95% of travel companies have closed or are struggling to survive, turning hotels into quarantine sites has become a way-out.

Thailand's experience shows that, despite initial concerns and problems, Phuket welcomes 4-5 international flights each day under the Phuket Sandbox program. At least 4,778 foreign visitors have come here since July 1. Phuket has got 100,000 bookings over the next three months, totaling 8.9 billion baht in revenue. In the context that almost 100% of hotels and private motels here have had to close, even if only 10-20% of them have guests, this helps to breathe new life into the local tourism industry.

After Phuket, Thailand opened three more islands in the South to vaccinated tourists from 70 countries on July 15.

Mr. Pham Ha, Chairman of Lux Group, said that Phu Quoc is the most suitable destination for both international and Vietnamese tourists. As an island, it is easy to manage tourists who come in and get out of Phu Quoc, similar to Phuket in Thailand.

Phu Quoc island, with about 200,000 residents, has a geographical location and population characteristics suitable for implementing the herd immunity plan on a small scale. Moreover, the island is capable of serving international guests. The Phu Quoc International Airport can host 2-3 million international passengers/year. At present, the airport can serve 7-8 landing and take-off flights per hour. On the island, there are many reputable and quality car rental companies to exclusively serve about 5,000-10,000 international guests.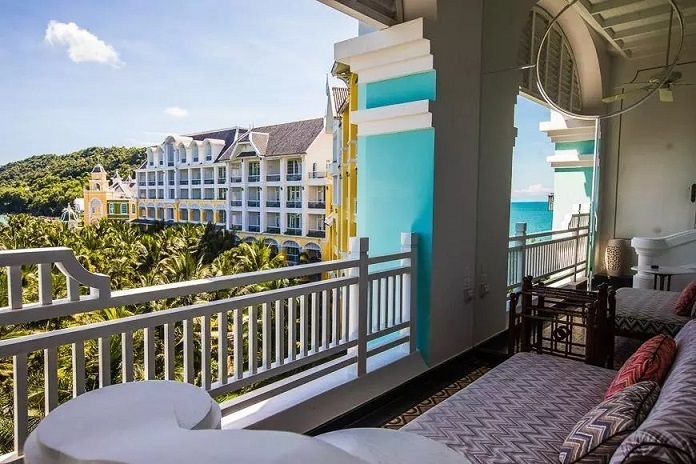 Phu Quoc is preparing infrastructure to welcome international arrivals this October.

Phu Quoc has 16 5-star hotels, seven 4-star hotels, seven 3-star hotels and many other large-scale accommodation establishments, with a total of more than 20,000 hotel rooms. There are also many large-scale resorts, tourist attractions, and entertainment venues. Vinmec Hospital and Phu Quoc Medical Center are ready to provide PCR tests for more than 200 tourists per day and treatment services at hotels.

From July-October, Vietnam Airlines will reopen international flights to a number of destinations in Asia such as Japan, Thailand, and Europe (UK, Germany) and Australia. It piloted the IATA Travel Pass electronic health passport application on two flights from Narita Airport (Tokyo, Japan) to Da Nang on July 15 and 23.

Along with reducing the quarantine period to seven days for those who have had two doses of Covid-19 vaccines, localities also need to coordinate with the health sector to allow more hotels to offer quarantine services at diverse and reasonable prices, to meet the increasing demand of foreign visitors.

Ha Yen, Vietnamnet
VIET GREEN TRAVEL & TOURS
The leading of International Luxury Tour Operator in Vietnam
Head Office: 102 H50 Alley 41/27 Vong Street, Hai Ba Trung Dist, Ha Noi City
Core activities:
- Vietnam Luxury Tours, Vietnam Adventure Tour, Vietnam Helicopter Tours, Vietnam Seaplane Tour, Vietnam & Southeast-Asia Lux Golf Holiday
- Vietnam Marathon Trekking Tours, Quang Binh Caves Expedition & Adventure, Luxury Cruise Tours, Hotel Booking, Meeting, Incentive, Conferences, Event, Car Rental, Visa Renewal & Extension
- Luxury Southeast-Asia Tours, Vietnam Cambodia Tours, Vietnam Laos Cambodia Tours, Vietnam Thailand Tours, Thailand Cambodia Vietnam Tours
HOTLINE SUPPORT