Top 6 Laos Golf Courses Review
Carved through tropical valley and foothill foliage, this resort course gently rolls over hillocks and knolls and across terrain punctuated by interesting water features that come into play on seven of the eighteen holes. Viet Green Golf show all Laos Golf Holiday courses reviews, Luang Prabang's dining and locker facilities are world class.
JUMP TO  Luang Prabang Golf Club  | Golf Courses in Vientiane  | Laos Country Club | Sea Games Golf Club | Vientiane Km 6 Golf Club | Laos Inter Golf Club
Nestled among verdant foothills, serene rice fields, and the Mekong River, exotic Luang Prabang Golf Club, and the UNESCO World Heritage city, Luang Prabang, linger in Laos tranquility. Carved through tropical valley and foothill foliage, this resort course gently rolls over hillocks and knolls and across terrain punctuated by interesting water features that come into play on seven of the eighteen holes. Viet Green Golf show all Laos Golf Holiday courses reviews, Luang Prabang's dining and locker facilities are world class.
GOLF COURSES IN LAOS
1/  Luang Prabang Golf Club 
Southbank, Mekong River, Luang Prabang, Laos PDR
Holes:  18, with finishing holes along the water.
Yardage:  7443 yards
Par:  72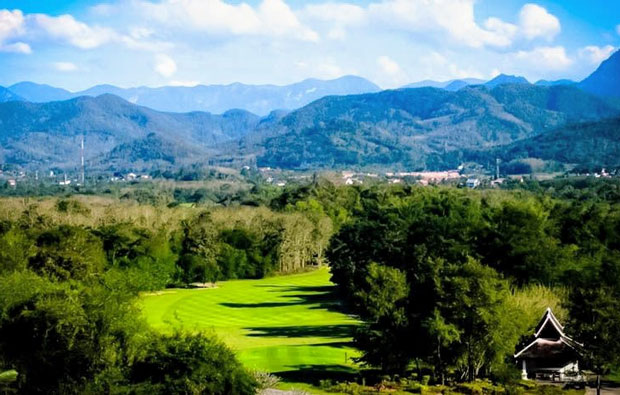 Luang Prabang Golf Club sits about 6 km west from the center of town, situated along the south bank of the Mekong River surrounded by forested tropical mountains. Holes 14 through 17 parallel the riverbank with the par three 17th playing right along the river's edge. Water is evident on nine of the 18 holes but really only comes into play on holes 3, 5, 7, and 14. The par four 18th hole plays uphill 35' over 375 yards from the tips to a medium-sized green that slopes 7' right to left across 75 feet of putting surface. The greens in general tend to be medium to small. Elevation changes across the entire layout are mild with hole 18 being the only exception and walking is not difficult, consisting of level to gently undulating terrain contours.
This is a relatively new track and it features fairway landing areas 35-40 yards wide, bordered by moderate rough depending on how it has been cut. There are sand traps protecting most of the greens and a liberal use of fairway bunkers affects the placement of your tee shots on every hole except 14 and the
 par three holes.
One priority of the project from its inception, through its construction, and now during its operation, is maintaining their policy of being environmentally friendly in every way.
Like most memorable and classic venues, Luang Prabang takes you on a journey. There are no parallel fairways so you really enjoy the sense of going somewhere as you play out away from the River on the front nine. On the back you play in getting gradually closer to the majestic Mekong over four of the last five holes until you are beside it for the last 190 yards at the par three 17th before you turn up the 18th fairway toward the clubhouse.
At 7,443 yards from the tips and par 72, it is a picturesque and liberating challenge you are certain to embrace, and afterward you'll unwind in the congeniality of the comfortable clubhouse. Specify this resort and lead your friends and colleagues to a venue that is destined to gain prominence worldwide, and seal your status as a pioneer. Please contact one of our courteous Laos Golf Holidays booking professionals for answers and assistance in adding this unique experience to your pleasure trove.
Dansavanh Golf & Country Club
Ban Phonkham, Toulakhom District, Vientiane, Laos
Holes: 18-hole picturesque course
Yardage: 6900 yards
Par: 72
Casino:  Open 24 hours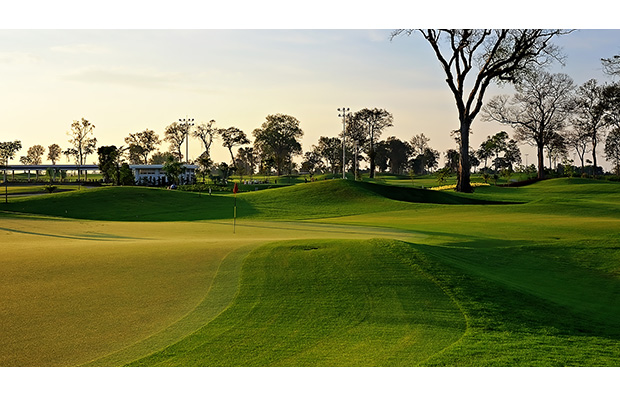 Dansavanh Golf & Country Club owns the reputation as the original international quality golf resort in Laos. It certainly owns a one of a kind location with views of Nam Ngum Lake—"the Lake Geneva of Asia"—and upland forests of palms and pines at elevations ranging from about one thousand to two thousand feet above sea level.  Drive northeast out of Vientiane for about an hour and you'll come to Lake Nam Ngum. A short ways more around the southern end of the Lake and you will be able to enjoy a round of golf and make it back to Vientiane in plenty of time for dinner. Unless, of course, you decide to march in to the resort's 24-hour casino and try your luck.
This course has many interesting doglegs. Eight of the 18 holes, almost every other hole, is a dogleg. Five of them dogleg right while three angle around to the left. This makes placement off the tee a real priority. If you cannot cut the corner with your tee shot or hit it long enough to bend the ball around the corner, a good rule of thumb for reasonably straight hitters is to tee your ball at the same side of the tee box as the dogleg goes, e.g., dogleg left, tee it left.
Not only do you have the magnificent views of one of Asia's largest lakes as you play this championship course, you also have the challenge of negotiating Dansavanh's water features throughout the course. And throughout is not an exaggeration. Water comes into play on no fewer than 13 of the holes at this fine resort.
The layout tends to be hilly in places requiring shots to be played from an interesting variety of lies. If you are not accustomed to walking, you may find that this course will tire you out if you decide to hoof it. It can be a little tiring even in a cart at times, measuring almost 7,000 yards in length from the back tees. But it is truly a championship track in a gorgeous setting; one that you'll likely want to play more than once.
If you are like most Laos Golf Holiday guests, you'll want to take a moment to gander at the stunning view from the 10th hole while your partners are hitting. The greens are quite fast and true so if you bring your flat-stick 'A' game you'll have some good chances at scoring well. If you like manicured fairways and manageable rough you will be a happy camper in the upland tropical forests surrounding the 224 square mile "Lake Geneva of Asia." For assistance and answers, please contact one of our courteous Laos Golf Holidays booking professionals.
KM 14 on the Road from Friendship Bridge to Vientiane
Holes:  18
Yardage:  6005 yards
Par:  71
Lao CC is in very good condition because of its recent refurbishment. They did a marvelous job in upgrading the former Youth Garden Golf Course to impressive resort standards. It is one of the oldest golf properties in Laos and with time it became necessary to fix it up and they are to be commended for the professional job they have done.
You will find gently undulating fairways with mostly level lies on this course, making it an easy walk with only 35' of elevation change from the highest to the lowest ground on the property. You may also find it easy to get wet at Lao CC. There is water everywhere on this course, creating a most interesting distraction if you allow it to steal your concentration and negate your shot placement.
Remember never to let water make you nervous. Your body doesn't know do or don't, it only understands where your attention is focused. Focus your attention on "don't go in the water" and your body aims to follow your attention. Fasten your attention to where you want the ball to land.
You'll get your hint of what is to come on the first hole where decorative water envelopes the tee boxes on the left and right sides, with the water on the left running nearly the entire 349 yards from the back tee to just short of the green. The last 75 yards to the green has lateral water on the right waiting to soak an errant shot. And this is just the beginning. But it is a good beginning because it has introduced the nature of what is to come without actually putting the water in your way.
Some of the teeing grounds have water in front of them but this is more cosmetic and psychological than strategic because the distances to carry the hazards is modest. From the tees, the fairways are generous with well-placed bunkers in the landing areas. And the greens are immaculately mowed to a comfortable speed with no encroaching foreign grasses prevalent.
This Laos Golf Holidays course typically plays at a good clip due to a self-imposed limit on the number of groups allowed to play each day—60 groups—and the tee times are well spaced, adding to the very comfortable pace of play. You can expect to be neither pushed nor delayed on this finely refurbished country club layout. If you are ready to learn more, please contact one of our courteous Laos Golf Holidays booking professionals for answers and assistance in embarking on one of the greatest trips of your life.
 Read more >>>  Luang Prabang Golf Getaway 3 days 2 round
Saythany District, Vientiane, Laos
Holes:  27 Holes – A Course, B Course, C Course – built for the 25th SEA Games competition
Yardage:  A=3600, B=3528, C=3611
Par:  72 in any combination of nines for 18 holes
Twenty-seven holes of formidable golf await you at the course designed for official competition during the 25th Southeast Asian Games in Vientiane, Laos. Located conveniently a short 10 miles northeast of the city center it is just far enough out to escape the urban sprawl and surround you with the flora and fauna of pastoral Lao woodlands.
You will find yourself surrounded by water as well on many of the holes at this championship layout. But these are not your garden variety water hazards. They are expansive. Fortunately, they tend to add more to the view than to the shot-making, since they are for the most part lateral and you are not required to cross them so much as you need to avoid errant slices or hooks to stay dry.  The largest of these bodies of water runs over 1,000 yards long and is bounded by seven holes between the B and C courses. Seven bodies of water on the property define the lateral playing areas for 18 of the course's 27 holes.
Players that know South Florida golf will find SEA Games GC similar in terrain to those generally flat, links types of tracks. The entire elevation change across the 27 holes is only about 15 feet maximum.
Some of the greens might as well be island greens for all the water around them, but in fact they are peninsular. You certainly do not want to hit long into these greens or you'll have some big numbers on your scorecard. The course in general gives you a peninsular feeling as you observe water left and right from many of the fairways, tees, and greens.
If you are planning a Laos Golf Holidays incentive trip for staff and customers and there are a lot of them, this is an ideal venue in Laos. The 27 holes can allow you to get your group all back to the clubhouse at more or less the same time, which is important for transportation and other logistics.
The serious players in your group that scare par now and then will find the length and course management this layout demands to provide a most exhilarating few hours of golf, over and over again. The recreational golfers among you will relish the ambient nature and forestation while feeling relieved at how well the forward tee positions have been orchestrated to lessen the severity the long hitters experience, allowing everyone to have fun. When you have questions, please contact one of our courteous Laos Golf Holidays booking professionals for answers and assistance.
Vientiane Club KM6 Ban Nonesavang, Vientiane
Holes: 9-hole course set in a beautifully serene landscape
Yardage: 3200 yards
Par: 72
New York is so nice they named it twice. This course is so nice you'll be glad to play it twice. And you'll need to if you want to get in 18 holes because it is a nine hole track.
KM 6 – which is the nickname and ordinate for its location at kilometer 6 along Highway 13 heading northeast from the center of Vientiane – is where local expats gather for their regular games. The location is quite convenient and accessible but the reason they congregate at KM 6 is to enjoy a very well kept Laos Golf Holidays golf course that is tight in places and rewards good shot making over a distance for nine holes that doesn't wear down the senior golfer.
Trees line the fairways and insulate the tee boxes from distractions. It is reminiscent of traditional U.S. courses from the middle of last century. You may be surprised on the second, fourth, and fifth holes to see trees out in the fairways choking down the landing areas and narrowing the paths to the greens. Locals have a decided edge on these holes.
It is a busy course on the weekends and some weekday mornings. There are only three water hazards but you have to play over them on five different holes.  The greens are sweet and the bunker sand is consistent. Food in the clubhouse is tasty and good value for money. Please contact one of our courteous Laos Golf Holidays booking professionals now for answers and assistance.
Ban Champa, Sikhottabong District, Vientiane
Holes:  18
Yardage: –
Par: -
Lao Inter Golf Club opened in 2012 located about 12 kilometers, as the crow flies, northwest of Wattay Airport in Vientiane, adjacent to Tadmoon Waterfall. It is maturing nicely and it is a pleasant playing experience with some wide fairways and few water hazards to worry about. One hazard that you may have to worry about is the green that, similar to the 6th hole at The Riviera CC in Los Angeles, has a sand trap right in the middle of it.
Some of the fairway landing areas narrow in a bit, and most of the fairways are lined with thickets of natural vegetation and hundreds of indigenous trees. Bunkers are prevalent protecting the greens and in key locations in some of the landing areas. The grasses have flourished under the care and expertise of the greens-keeper and the condition of the tees and greens is what you'd expect at a considerably more expensive, upscale resort in California, like La Quinta.
The clubhouse is clean and accommodating in every regard with attentive staff administering all of the amenities. The reviews continue to rank quite high for this latest addition to the Vientiane Laos Golf Holidays mix with enthusiastic comments about the 680 yard par 6 that is unique for the region.
They have rental clubs available inexpensively and the caddies are well trained and eager to assist international guests. There are sure to be questions so please contact one of our friendly Laos Golf Holidays booking professionals for answers and assistance in planning and booking this unique golf experience.
RELATED NEWS:
Asian Golf Courses => Find all HERE
Tips of Southeast-Asia Golf Holiday => Read more 
Review Asia Golf Courses => Review Now
Customers Testimonials => Like with us
Find best golf hoilday in Southeast-Asia at: VietGreenGolf.com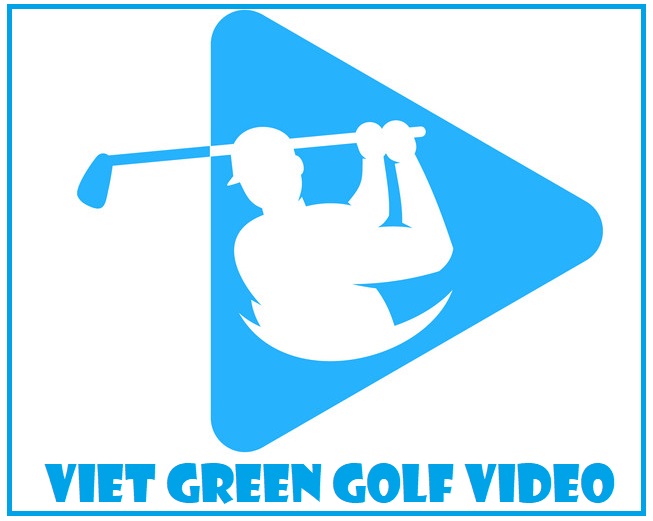 HOTLINE TOUR GOLF/ TEE-TIME/ COMBO GOLF & PLAY: +84.989313339
Email: vietgreengolf@gmail.com - golf@vietgreentravel.com 
Email VIP GOLF: vip@dulichxanh.com.vn
Website: www.vietgreengolf.com | www.dulichgolf.com 
Link FORM book tee-time: https://forms.gle/uifwM1rjdxdpbe4o9 

TAG: Laos Golf Courses, Top Golfing Tour in Laos, Laos Golf Holidays, Laos Best Golf Courses
VIET GREEN TRAVEL & TOURS
The leading of International Luxury Tour Operator in Vietnam
Head Office: 102 H50 Alley 41/27 Vong Street, Hai Ba Trung Dist, Ha Noi City
Core activities:
- Vietnam Luxury Tours, Vietnam Adventure Tour, Vietnam Helicopter Tours, Vietnam Seaplane Tour, Vietnam & Southeast-Asia Lux Golf Holiday
- Vietnam Marathon Trekking Tours, Quang Binh Caves Expedition & Adventure, Luxury Cruise Tours, Hotel Booking, Meeting, Incentive, Conferences, Event, Car Rental, Visa Renewal & Extension
- Luxury Southeast-Asia Tours, Vietnam Cambodia Tours, Vietnam Laos Cambodia Tours, Vietnam Thailand Tours, Thailand Cambodia Vietnam Tours
HOTLINE SUPPORT