Highlights of Vietnam - 11 Days / 10 Nights
Noi Bai International Airport to your hotel in Hanoi (35km): 45 mins
Arrive in Hanoi and be welcomed by the guide and transfer to hotel. The rest of the day is at leisure.
Overnight in Hanoi.
Routes can change subject to client's interest.
This morning, the tour starts at 08:30. Drive pass the historical Ba Dinh Square where Ho Chi Minh proclaimed the independence of Vietnam in 1945. Driver drops off at Lenin Garden – communal space of local for taking an easy walk through before strolling through areas where sewing shops have been in family hands for generations, and people still practice the old ways, or admire the daily life of local people in the alley of Hanoi. Proceed to the millenia-old Temple of Literature and explore its role in the country's past, as both a university and a temple.
If interested, make a stop at the last courtyard where Vietnamese traditional instruments contribute to the oriental feel. For travelers who are musicians, opportunities to play some notes will present themselves, all under the guidance of the artists. Afterward, visit the fascinating Ethnology Museum (closed Mondays), which is both a research centre and a public museum exhibiting the ethnic groups of Vietnam. Lunch is at a local restaurant. Towards the end of the tour, embark on a walk through Hanoi's Old Quarter. Witness the ancient commercial street names, mirroring the crafts and businesses dating back over a thousand years. Make a stop at Thuong Tra tea house nested in an old apartment building, just to escape from Hanoi's bustling life and learn about the importance of drinking tea in Vietnamese society while sipping on a cup of tea.
Then take a stroll around the  charming Hoan Kiem Lake to enjoy local daily life passing by. Finish the day with a Water Puppet show. This is a uniquely northern Vietnamese art form depicting scenes from rural life and episodes of national history.  
Overnight in Hanoi.
Hanoi to Ninh Binh (100km): 2hrs
Depart the hotel this morning at 08:30 for a 2.5 hour drive through rural northern Vietnam to Ninh Binh Province — one of the most beautiful parts of Vietnam with its dramatic scenery and historical temples. The rice fields here are beautiful and the area has earned the nickname of 'Dry Halong Bay', a moniker borne out by the limestone karsts which dominate the landscape.
Upon arrival, begin a leisure 5 to 15 km (according to preference) biking trip around Tho Ha village passing by peaceful villages and enjoying the rustic countryside landscapes. Continue to Dong Tam Hamlet to join in some engaging agricultural activities such as catching crabs, fishing and transplanting, watering vegetables and more. Enjoy lunch before boarding the sampan for a 1.5 hour boat trip cruising over a small canal among the paddy fields for 1km, then stroll along the winding rocky path of the foot for 200m and go up 20 steps to reach the Galaxy Cave gate. Get inside the cave and admire the spectacular stalactites above the cave ceiling. Continue to discover But Hien cave and be attracted by many natural sparkling stalactites with shapes and figures before returning on the same route.
Hanoi to Halong Bay (160km):3hrs30mins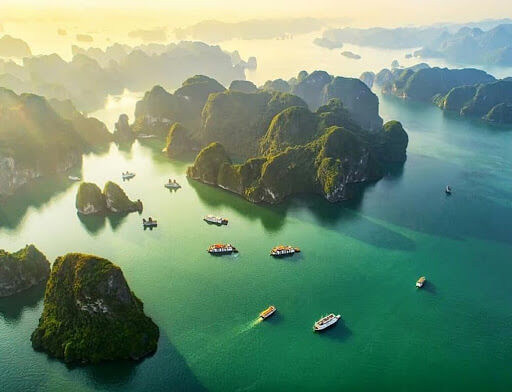 The scenery of Halong Bay where thousands of limestone islands jut out of the emerald sea, sculpted into bizarre shapes is truly an iconic image for Vietnam. An overnight boat trip is the best way to enjoy this Vietnamese must-see. After breakfast leave Hanoi for a 3hr30mins drive to Halong Bay including a 20-minutes stop on the way .
Arrive at the jetty in Halong City towards noon and proceed with check-in formalities. After a  welcome onboard, lunch will be served while cruising towards the bay itself. In the afternoon, enjoy some visits and/or activities (depending on each boat's itinerary) or just spend some time relaxing on board.
Towards the end of the day the boat sets anchor for the night among the karst formations. Dinner is served on board.
Overnight on Halong Bay
Routes can change subject to client's interest.
The sun rises on Halong in the morning and breakfast is served (also brunch on some boats) while the vessels cruises slowly back towards port. Disembark and transfer back to Hanoi or Haiphong airport
Take a short flight to Danang, on arrival in Danang transfer 40-minutes to Hoi An, a major Asian trading port in the 17th and 18th centuries whose architecture and relaxed lifestyle has changed little over the years. 
Overnight in Hoi An.       
Routes can change subject to client's interest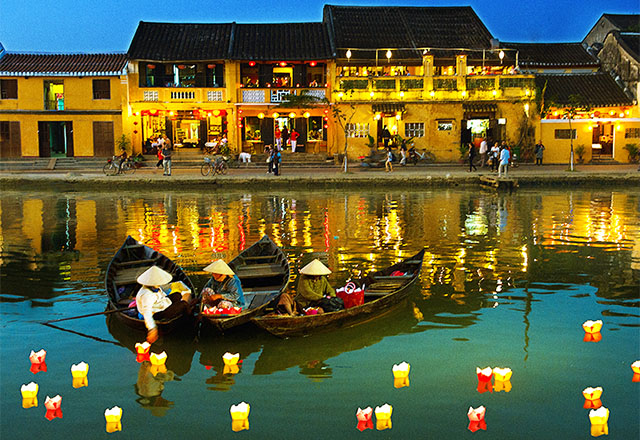 This morning, go on a walking tour in Hoi An, a charming destination with two faces – the old-world trading port of narrow streets and traditional houses, and the beach with its new resorts and long stretches of clean white sand. In keeping with Hoi An's heritage as a trading port, the town's tiny shop houses now host a range of craft shops and artisans including some of Asia's best tailors. Despite the passing of 200 years and the ravages of weather and war, the centre of Hoi An remains much the same as it was in its heyday. Take a walking tour of the ancient town centre to visit former merchants' houses, the 400 year-old Japanese Bridge, a Chinese communal hall and the colourful market.
This afternoon, take a 15 minutes drive from Hoi An Ancient Town to Cua Dai Estuary. Upon arrival at Duy Hai Fishing Village, enjoy the bustling morning fish market and then visit a family-run fish sauce workshop under the guidance of the owner to learn about this essential ingredient in Vietnamese cuisine. Get on a boat and go upstream the 'Mother River' from Thu Bon to Duy Vinh Village.  These villages are well-known  for traditional weaving sedge mat. This land was created by three Alluvium Rivers such as Thu Bon, Truong Giang and Ly Ly which provides the perfect land to plant the materials for the sedge mat. Pass by a shrimp and duck farm to get a glimpse about agriculture river life.
Depending on the season (from Feb to Apr and from Jul to Sep), see golden paddy fields during harvest season or green groves of jute along the banks of the Thu Bon River. Upon arrival at Ban Thach Mat Village, where abundant sources of raw rush used to weave mats have allowed the villagers to develop their own handicraft and improve their lives for 400 years and start cycling to explore the beauty of a typical village in the Central of Vietnam. Learn the full process of sedge mat weaving from cutting sedge on the field to a finished mat following traditional method. See the way locals manage to keep their traditional occupation in a modern and constantly evolving time. Display personal creativity with unique patterns! End the trip sharing a simple yet friendly home-hosted brunch and return to Hoi An by bike across Cam Kim Bridge. 
Overnight in Hoi An.
Hoi An to Hue (150km):3hrs
Enjoy this morning at leisure before leaving Hoi An for Hue, the former imperial capital of Vietnam. Its mesmerising tombs and mausoleums of the last emperors of Vietnam reveal fascinating insights into the lives of the imperial families and their subjects. The ancient Citadel reflects the pomp and ceremony of the dynastic rulers as well as the scars of many years of turmoil, both ancient and modern. The Royal Citadel was badly damaged in the latter stages of the war but retains a sense of grace and majesty even today. 
Overnight in Hue.
Route can change subject to client's interest.
At 08:30 this morning, depart from the hotel in Hue for a city tour of the ancient town. Start at the Imperial Citadel where the Nguyen Dynasty ruled between 1802 and 1945. From here take a cyclo through dai noi 'Old City. Stop for a visit to Tran Dinh Son private museum with a collection of everyday items that past Kings have used. Learn how royal descendants are keeping the family's traditions alive today. Continue to visit Thien Mu (Celestial Lady) Pagoda overlooking the Perfume River; constructed in 1601, the 21-meter tall tower is the centerpiece of the pagoda and represents seven reincarnations of Buddha. In the grounds of the pagoda is the Austin car made famous when in 1963, a resident monk drove the vehicle to what was then Saigon to protest against the southern regime, the photo of his self immortalisation was captured and was one of the most well known images of the war.
Lunch at a local restaurant for an authentic Hue style cuisine.
Continue to former emperor Minh Mang's tomb located in a tranquil setting of gardens and ponds, inspired by the Chinese Confucianism, a harmonious design of balance and symmetry for the emperor's resting place.
Journey on to Khai Dinh's Tomb designed in traditional Vietnamese style with a European touch making it unique from the other tombs in Hue.
Routes can change subject to client's interest
Transfer to Hue Airport after breakfast for the short flight to dynamic Ho Chi Minh City, still called Saigon by the locals.
Meet with a local guide and set off on a half day tour in Ho Chi Minh City. Start with a visit to the city's most iconic building: Reunification Hall. Formerly called the Presidential Palace, images of the building were seen around the world on 30 April 1975 when tanks stormed the gates as Saigon fell to the North Vietnamese. Hear the echoes of time while walking through this historic downtown site.
Then take a stroll to Ho Chi Minh City's colonial quarter, walking past scenes of everyday life on the way. Admire the beautiful architecture of the Opera House, City Hall, the old Saigon Post Office, Hear about the glory days of French Indochina and how that era continues to influence aspects of modern Vietnamese culture.
Step inside the War Remnants Museum for an insightful, yet sombre, look into Vietnam's military history. See exhibitions displaying imagery from the French and American wars, learning more about the country's struggle for independence and hearing tales of the resilience of the Vietnamese people.
Then step off the tourist trail for one last visit on this Ho Chi Minh City tour at a Vietnamese coffee shop, sit down and taste the coffee like locals. After this insightful visit, return to the hotel.
Overnight in Ho Chi Minh City.
Note: History Museum is closed on Mondays.
HCMC to Ben Tre (100km): 2hrs
This tour begins at 08:30. Leave the busy streets and modern buildings of Ho Chi Minh City behind on this Ben Tre day trip. Following breakfast, drive south of the city to the Mekong Delta, a remarkable agricultural area referred to as 'the rice bowl of Vietnam'.
On arrival in Ben Tre Province, take a boat to sightsee activities along the riverside such as fishing and water transferring. Stop at a brick kiln and depending on the day, get a chance to observe how bricks are made in a traditional style. 
Continue to visit one of the many coconut processing workshops and watch how the locals open coconuts by hand (coconut husking) before cruising along the canals to a coconut candy workshop. Get a chance to learn all about the coconut candy making process. Taste honey harvested by the residents and the different kinds of tropical fruits. Cruise along local creeks through the villages to enjoy the tranquility of the countryside.
Take a walk to a family workshop that makes sleep mats. Afterwards, go on a 4 km bike ride or choose to travel by Lambro – short for Lambretta, which was once the iconic vehicle and main means of transportation in southern Vietnam dating back to the 1960s. (Please note:Travel by Lambro needs to be reserved well in advance due to limited vehicles.)
Ride through tranquil villages and see vegetable gardens that provide a touch of real life and tropical culture from peasants. Stop for lunch at a local restaurant. At the end of the tour, drive back to Saigon.
Overnight in Ho Chi Minh City.
Departure day. At leisure until transfer to Tan Son Nhat Airport for onward flight.
Our services include:
Accommodation in a shared twin or shared double room
Meals as mentioned (B= Breakfast, L= Lunch, D= Dinner)
English or French speaking guide (for other languages and a national guide supplements apply)
Tours and transfers as mentioned by private air conditioned vehicle
Entrance fees for mentioned visits
Boat trip as mentioned in the itinerary
Our services do not include:
Other meals than mentioned
Other services than mentioned
International and domestic Flights
Laundry, telephone calls and expenditure of a personal nature
NOTES
We strongly recommend the purchase of travel insurance (covering emergency medical evacuation) for trips to Vietnam.
Prices are valid 30 days from date of offer. Past this date price and conditions may be readjusted.
The cost of air tickets is subject to change without prior notice by the airlines.
Reservations during peak times (Christmas, New Year, Vietnamese Lunar New Year, National Holidays) may be subject to supplementary charges.
Rooms at hotels are available only from 1400 on arrival day till 1200 on departure date. A supplement will be added if early check-in or late check-out is desired.
Please note that all the above services & tours have yet to be booked, they are proposed for your information only and we will not make any reservations before we receive your confirmation to do so.
If one or some proposed service(s) is (are) not available at the moment of booking, we will try to find other possibilities/options or other similar service(s) in order to avoid changes to the program.
Address: 102 H50 Alley 41/27 Vong Str, Ha Ba Trung Dist, Hanoi
Core activities: Luxury Indochina Tours, Vietnam Luxury Tours, Vietnam Adventure Tour, Vietnam Helicopter & Seaplane Tour, Laos Balloons Tour, Marathon Tours, Caves Expedition & Adventure, Cruise Tours, Hotel Booking, Meeting, Incentive, Conferences, Event, Car Rental, Visa Renewal & Extension
CALL US 24/7

>> SIMILAR TOURS YOU MAY LIKE